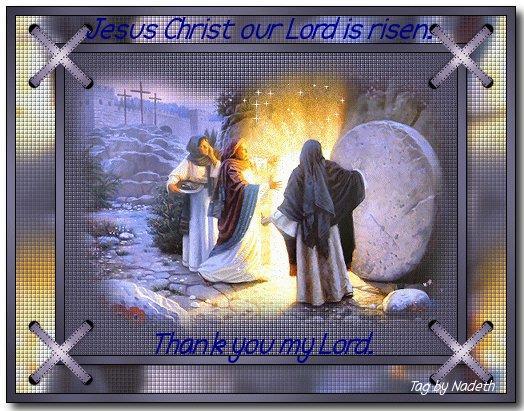 glitter-graphics.com
At dawn on the first day of the week, Mary Magdalene and the other Mary went to look at the tomb. There was a violent earthquake, for an angel of the Lord came down from heaven and, going to the tomb, rolled back the stone and sat on it. His appearance was like lightning, and his clothes were white as snow. The guards were so afraid of him that they shook and became like dead men. The angel said to the women, "Do not be afraid, for I know that you are looking for Jesus, who was crucified. He is not here; he has risen, just as he said. Come and see the place where he lay. The go quickly and tell his disciples: He has risen from the dead and is going ahead of you in
to Galilee. There you will see him."
Matt. 28:1-7
This is our salvation and the reason we know we will be eternally with Christ in Heaven.
Jesus took our sins on himself at the cross, and if we confess our sins and accept His gift of salvation, we can be saved and have Eternal Life. You can find out more by reading the Bible, especially Matthew, Mark, Luke, and John.
So Easter is not about Easter bunnies, and Easter eggs - it is about Jesus dying on the cross for our sins, and rising from the dead to give us Eternal Life!
May you have a wonderful Easter.
For more Easter posts, click on the Spiritual Sundays button.